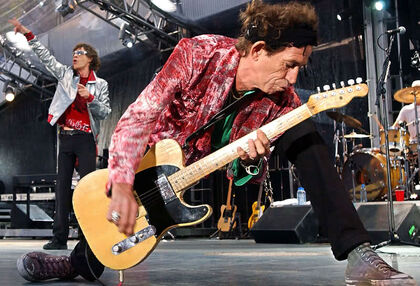 You might think this is a fictional character from Charles Dickens's 1850 novel, David Copperfield, but not in here! Here Micawber stays for Keith Richards #1 guitar - the one and only 53 ' Telecaster!  
History Behind "Micawber"
[
]
Eric Clapton gave the guitar to Keith on his 27th birthday. This was prior to the band going to France for the Exile On Main St recordings – they exiled themselves. Originally, there was a single-coil in the neck. The guitar was stolen from the band in France, but Keith did get it back. At the start of the '72 tour, the single-coil was still in place, but soon after Keith put in the humbucker.
'Micawber' is probably one of Keith's most famous trademark guitars. Micawber is named after a Charles Dickens character, no one is exactly sure why. Keith's had this guitar since Exile On Main St. This guitar is kept in Open G tuning (G,D,G,B,D) low to high with no capo, and of course has the famous 5 strings with the 6th string removed (as do all his open G tuned guitars).
Spec
[
]
    Neck fingerboard dots change spacing. On pre-1953 models, dots are about 1" (center to center) apart at the 12th fret. On 1953 and later models, the dot spacing is about 1 1/8" center to center.
    New wiring on a Telecaster. (Note the wiring change was late 1952.) That is, the 3 position switch forward position was the neck pickup with a "woof tone" capacitor (no tone adjustment.) Middle switch position was the neck pickup with the tone knob implemented. Rear switch position was the bridge pickup with no tone adjustment. This wiring used a .05mfd cap soldered between the two pots, and a .1mfd cap between the volume pot's ground and the 3 way switch.
    Flat-side ("poodle") guitar-shaped cases used during 1953. 
Recodings
[
]